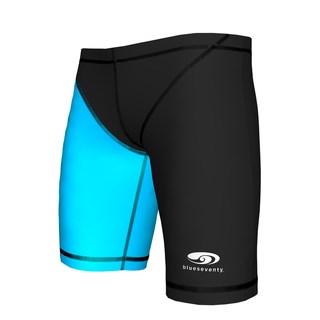 BLUE70
BOYS NEROSTITCH JAMMER V1
neroSTITCH is named due to its meticulous design focused on perfect fit in the water and stitch seaming complying with local swimming association rules for 12 and under swimmers.
Enhance your speed and streamlining, without constricting movement. The lightweight comfort fabric is flat locked stitched to maintain a flat and fast profile through the water. Stitching lines are positioned to enhance hip position and improve streamlining. This suit combines elite competition technology with comfort and flexibility. An ideal choice for junior and masters swimmers wanting performance without spending twenty minutes fitting their suit in the locker room.
neroSTITCH - for maximum comfort and unparalleled fit. Lightweight, quick drying and fast!
HOW TO FIT
Turn the silicon gripper inside out to allow fabric easily to slide up your leg. Focus your effort on getting the suit right around your hips. Flip and fix the leg grippers in place last; right before you race.
CARE
Always rinse your suit in fresh, cold water. Never use a hear drier or radiator. Dry flat if possible, or hang upside down from the legs. Never use washing machine to clean your suit.
Please note that these suits are a small fit.