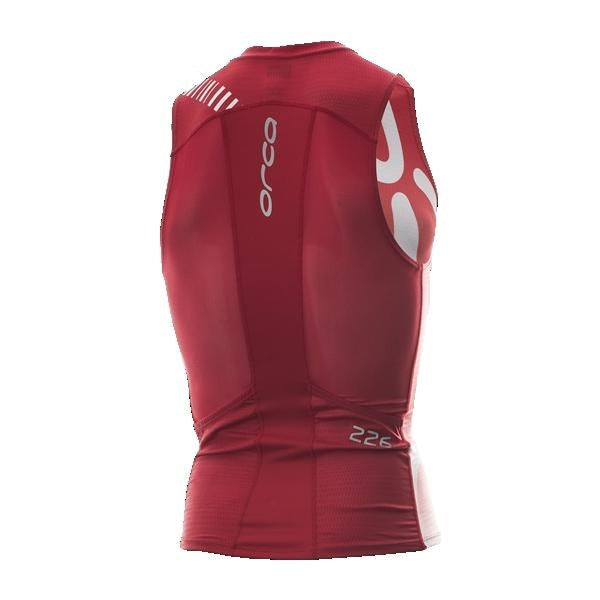 ORCA
MENS 226 PRINTED TRI TANK 2015 ORCA - RED
MENS 226 PRINTED TRI TANK 2015 ORCA
FINAL CLEARANCE ITEM - NO EXCHANGES OR RETURNS
If you're looking for a tank that will improve aerodynamics, naturally keep you cool, and provide maximum comfort and support over long distances.
TRI-ENDURO
Panels of the new Tri-Enduro tricot mesh fabric are used across the back of 226 garments for higher levels of breathability and moisture-wicking. The high spandex content provides better levels of stretch recovery, while the polyester gives the mesh increased strength and a smoother hand feel.
STRETCHSKIN
The ultra-lightweight StretchSkn four-way stretch fabric featured in the 226 range is strategically placed where aerodynamics are most important. This multi-faceted woven fabric also provides compression benefits allowing muscle support and a slower rate of fatigue.
VAPOUR COOL
Orca´s new Vapor Cool fabric uses nanocrystals embedded in the fibre to naturally conduct heat away from the body, keeping you cool. The cross-section yarn construction enhances moisture wicking and dries quickly. This highly breathable fabric also contains silver ions that are antibacterial and deodorizing, and anti-allergy, making it ideal for long-distance.
FEATURES
LIGHTWEIGHT
Revolutionary new Tri-Enduro mesh used on the back of the 226 Tri Tank wicks moisture away fast while still providing the all-important sun protection needed.
NATURALLY COOLING
Vapour Cool uses nano-crystal technology to keep the body cool and promote fast wicking on the front and lower back panels.
STORAGE
Two large rear pockets across the lower back give you plenty of room to store the nutrition you need within easy reach in a place that won't bounce around.
COMPOSITION
84% Polyester
16% Elastane(Spandex)
Available now at Swim T3 - your local swim and triathlon store.