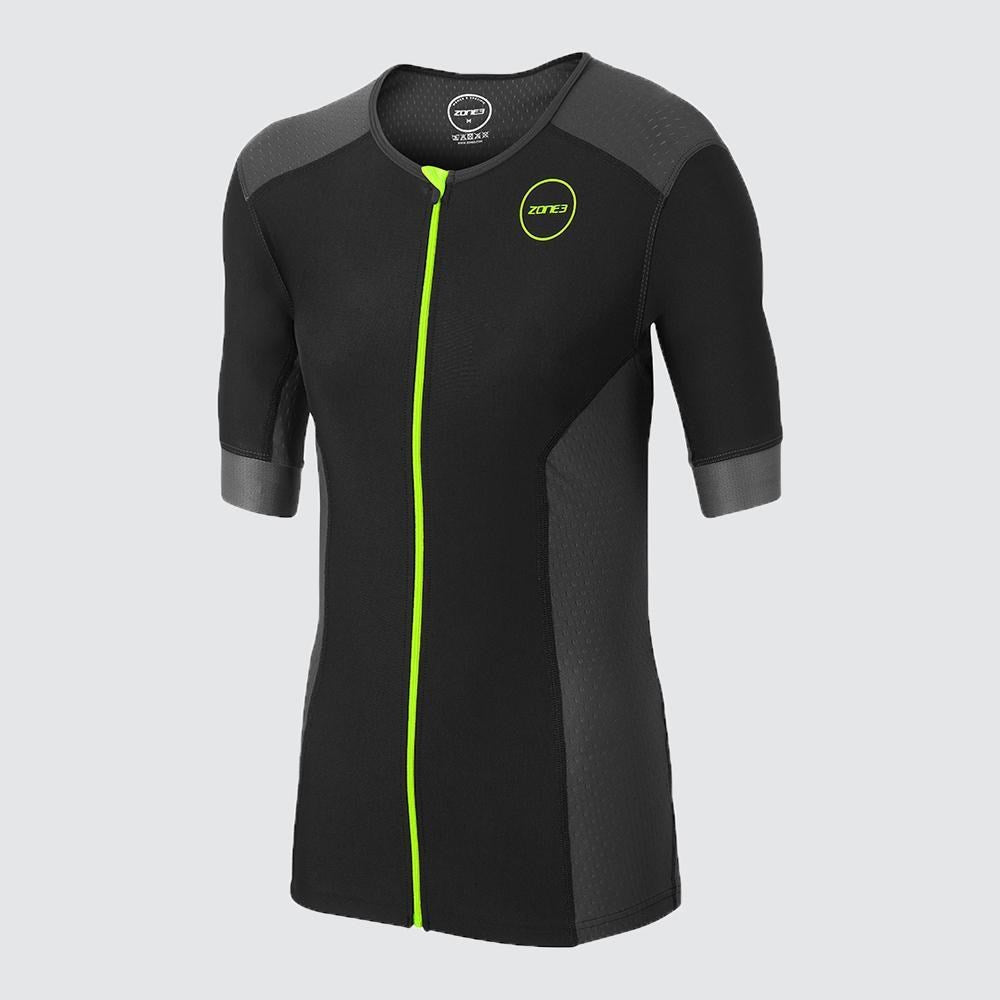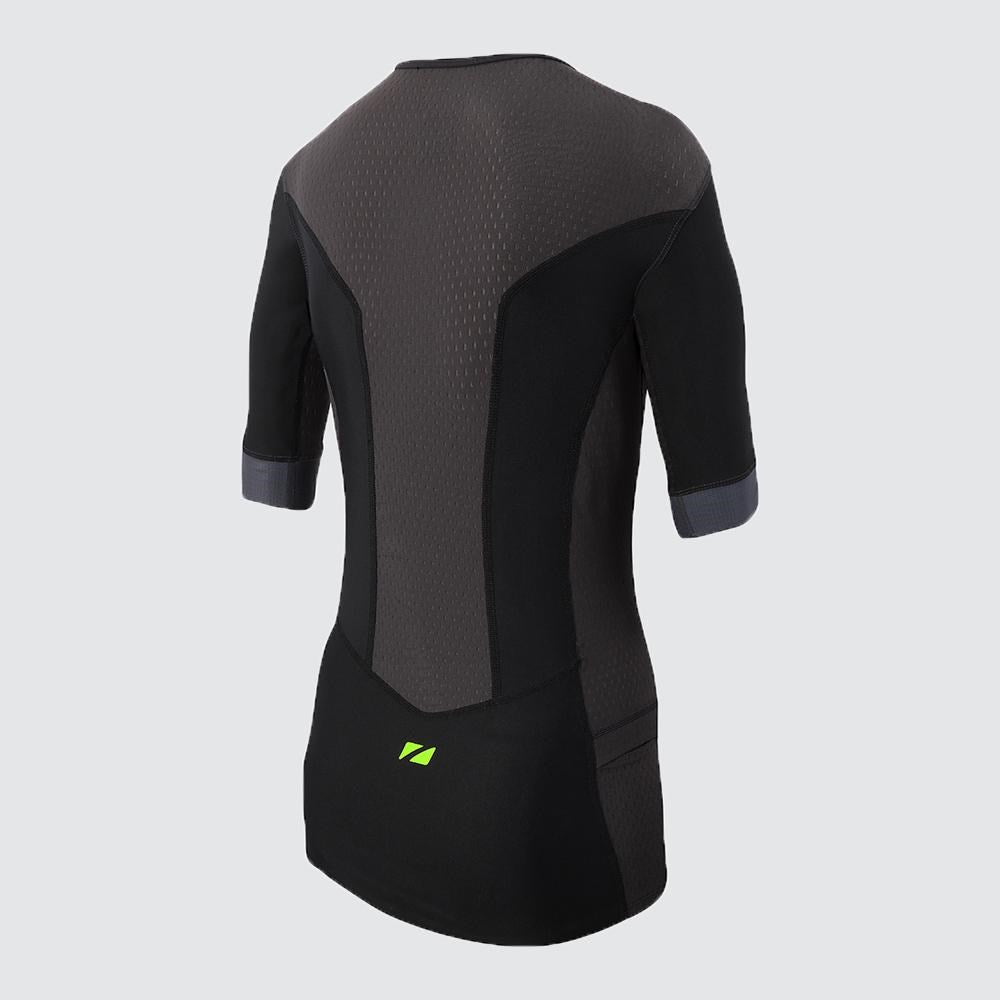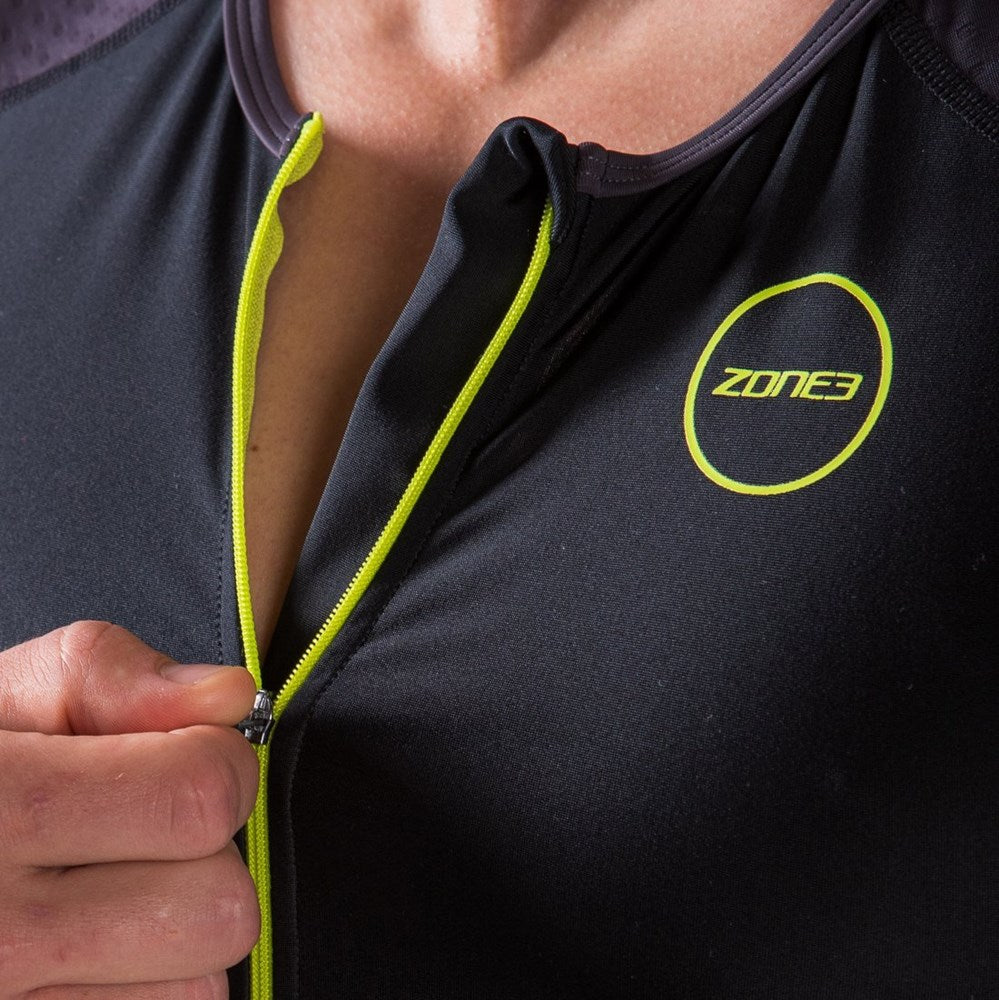 ZONE3
MENS AQUAFLO PLUS TRI TOP SHORT SLEEVE BLACK GREY NEON GREEN ZONE3
ZONE3 MEN'S AQUAFLO PLUS TRI TOP SHORT SLEEVE
The second generation Aquaflo+ range takes our award winning and much loved Aquaflo collection even further. Improved fit, a new panel construction and super-breathable fabrics ensures optimum ventilation and comfort.  
The range features our highly rated water repellent Aquaflo fabric, combined with an ultra-soft and flexible mesh fabric for improved ventilation and styling. There is an abundance of new features to improve comfort and functionality further and we hope this range will create a benchmark in the industry for the performance and quality which can be achieved, whilst keeping to an entry/mid-range price point.  
The Aquaflo Tri Top has been the best-selling top in our range thanks to the performance focused fabrics and comfortable fit. It is made using a combination of Aquaflo, Airflo and Revolution-X to offer speed, aerodynamics and a high degree of ventilation. It's a great looking and high-performance top suitable for both short and long distance races. 
Features:
Aquaflo™ is a fast and comfortable fabric. It is designed to give low levels of drag thanks to its water repellent coating. You will notice that when the fabric has water splashed on to it, it will bead up and flow straight off the suit. This hydrodynamic effect is maximised during the swim helping to achieve faster times. It also means less water is absorbed making the suit lighter and quicker to dry once on the bike. The suit is made from Xtra-Life Lycra® which ensures great shape retention and comfort throughout the race. The main body of this range is made from a black or navy colour to ensure modesty and superior coverage.  
Airflo is designed for optimum temperature control by allowing moisture to easily evaporate from the skin and help keep the body cool or warm depending on the conditions. The soft-touch feels extremely comfortable against the skin and the eyelet pattern also helps the fabric to dry very quickly after the swim.  
Revolution-X is a latest generation tech-fabric made in Italy and is used on the back panels as it is very lightweight, offers 360o stretch and is extremely breathable. 
Short Sleeve Design: Becoming increasingly popular, the short sleeve design offers more coverage and improved aerodynamics. An Italian-designed silicone band is used to secure the arm sleeve gently in place and fit a range of bicep sizes.   
Length - Designed to slightly overlap with the Tri shorts which gives the impression of wearing a suit, but with the versatility of wearing shorts and top. The top is also longer at the back compared to the front to ensure good coverage in all cycling positions. 
Ergonomic Pocket Design: Two carefully positioned streamlined pockets on each side of the leg to allow nutritional products or other race accessories to be stored and accessed with ease.  
Elastic Technology and binding gives a snug fit without any discomfort around the arms and neck lines. Also, new seam construction to prevent any chafing under the arm. 
Stylish Flat locked stitching – Designed for maximum strength and minimum discomfort against the skin. 
Front semi-auto lock zipper for extra ventilation during the cycle or run. 
Total Zip protection: Soft fabrics are used to cover the inside of the zipper and this is combined with a 'fold over' cover to ensure no discomfort from the zip on the chest.