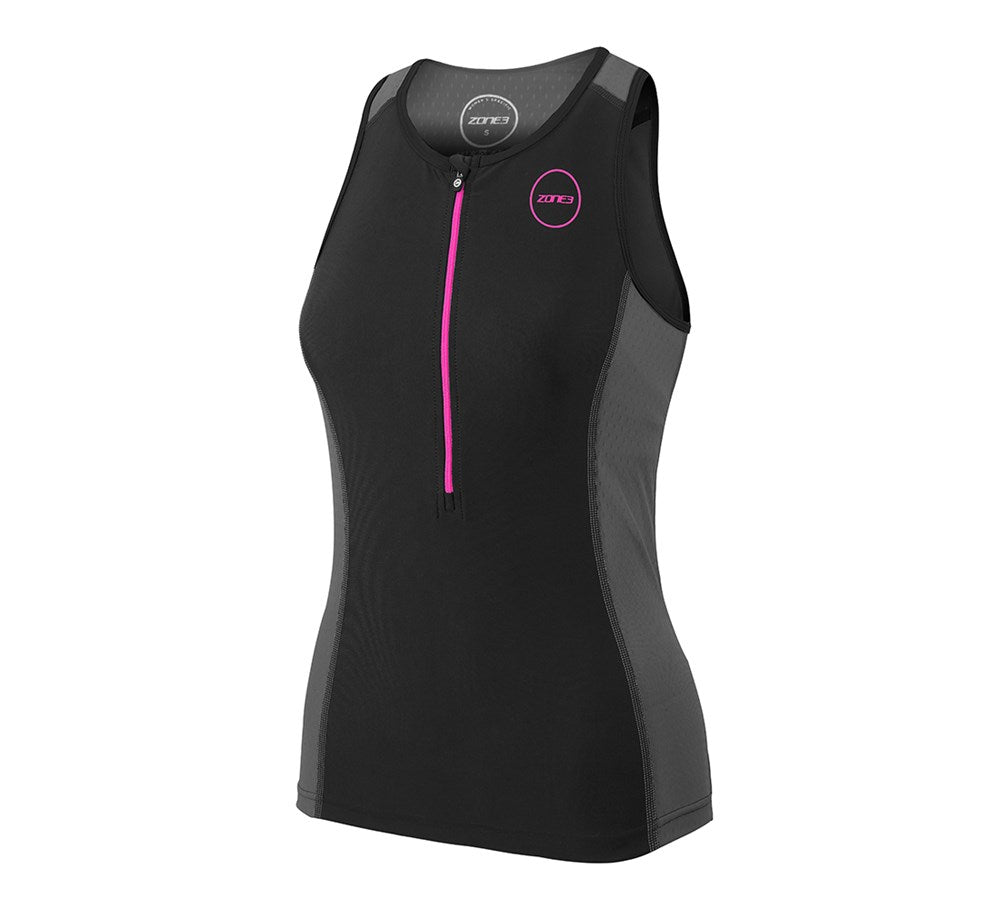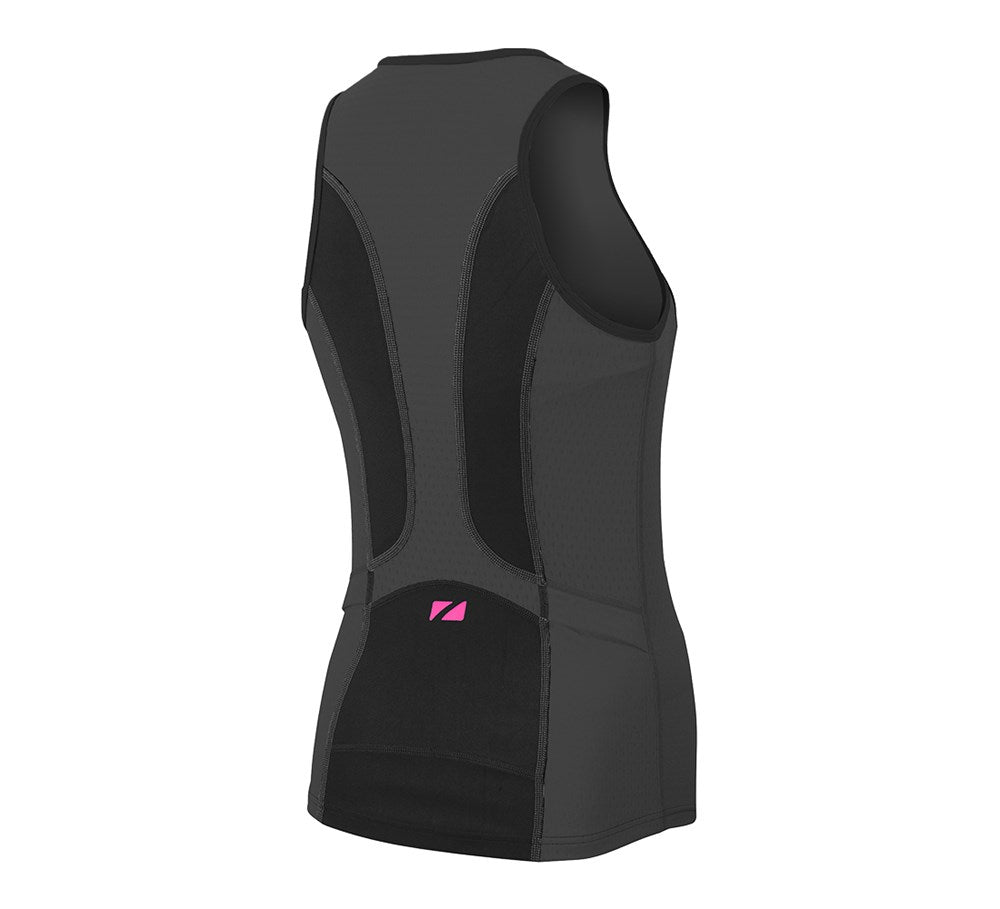 ZONE3
WOMENS AQUAFLO PLUS SLEEVELESS TRI TOP BLACK/PINK ZONE3
The new 'Aquaflo Plus' range takes our award winning Aquaflo collection to another level.
The Tri suits, Shorts and Tops feature our highly rated water repellent  Aquaflo fabric and this is combined with an ultra soft and flexible mesh fabric for improved ventilation and styling. There is an abundance of new features to improve comfort and functionality further and we hope this range will create a benchmark in the industry for the performance and quality which can be achieved within a entry/mid-range price point.
Not only do these garments perform brilliantly on the swim, cycle and run but they are also designed to look much more contemporary and stylish compared to others available on the market.
The range is an update on the long standing Aquaflo range which achieved the 'BEST BUY' award in 220 Triathlon magazine in 2011, 2012 and 2014. The collection is designed to improve speed, endurance and comfort and offers top of the range features but without the top of the range price-point.
Tri Top:
What makes this product different:
Five years worth of award winning reviews based on performance, comfort and value.

Pockets for nutrition and inner shelf bra.

High-Tech Teflon coated fabrics which are fast, breathable and offer great coverage.
A great looking and high performing top designed for both long and short distance races. It offers a combination of Aquaflo and Airflo fabrics to ensure comfort, aerodynamics and a high degree of ventilation. The design is based on the Aquaflo Tri suit which won the BEST BUY award in 220 Triathlon magazines group tests in 2011, 2012 and 2014.
Features include:
Aquaflo

™

 is

 a fast and comfortable fabric. It is designed to give you low levels of drag thanks to its water repellent Teflon coating. You will notice that when the fabric has water splashed on to it, it will bead up and flow straight off the suit. This is the effect which is maximised during the swim. 

This hydrodynamic effect is maximised during the swim helping to achieve faster times. It also means less water is absorbed making the suit lighter and quicker to dry once on the bike.

 It is made from 

Xtra

-Life Lycra® which ensures great shape retention and comfort throughout the race. The main body of this range is made from a black or navy colour to ensure modesty and superior coverage.

Revolution-X 

is a latest generation tech-fabric made in Italy and is used on the back panels as it is very lightweight, offers 360

o

 stretch and is extremely breathable.

Airflo 

is designed for optimum temperature control by allowing moisture to easily evaporate from the skin and help keep the body cool or warm depending on the conditions. The soft-touch feels extremely comfortable against the skin and the eyelet pattern also helps the fabric to dry very quickly after the swim.

360 degree

 Inner Bra

 is 

designed to give extra support especially during the run phase. It is made from a high denier strength 

lycra

 fabric to ensure comfort. The bra allows you to use the main suit zipper on the front without exposing too much chest.

Length –

 The top is designed to overlap with the Tri shorts which give the impression of wearing a suit, but with the versatility of wearing shorts and top.

Tri-

lite

 pad:

 A female specific made to measure triathlon pad. Small and neatly positioned, the pad also features different thickness levels to ensure comfort and 

minimise any saddle pain. It is designed to minimising any water absorption and provides protection during the cycling phase, without impeding your swim or run. Also, new fine-line stitching to further reduce any irritation.

Storage pockets

 with an 

elasticated

 band ensuring easy access to any nutrition, spares or valuables.

Elastic Technology and binding 

gi

ves a snug fit without any discomfort around the arms and neck lines. A new seam construction prevents any chafing under the arm.

Stylish Flat locked stitching

– Designed for maximum strength and minimum discomfort against the skin.

Front semi-auto lock zipper

 for extra ventilation during the cycle or run.

Total Zip protection: 

Soft fabrics are used to cover the inside of the zipper and this is combined 

with a 'fold over' cover to minimise any discomfort from the zip on the chest.
The Women's Aquaflo Plus Tri Top has been very well received and ticks all of the boxes in terms of fit, support, performance and subtle styling. Looking for a sportier look? Have a look at the Aquaflo Plus Y-Back Tri Top or the Bra Top, perfect for those wanting less coverage.