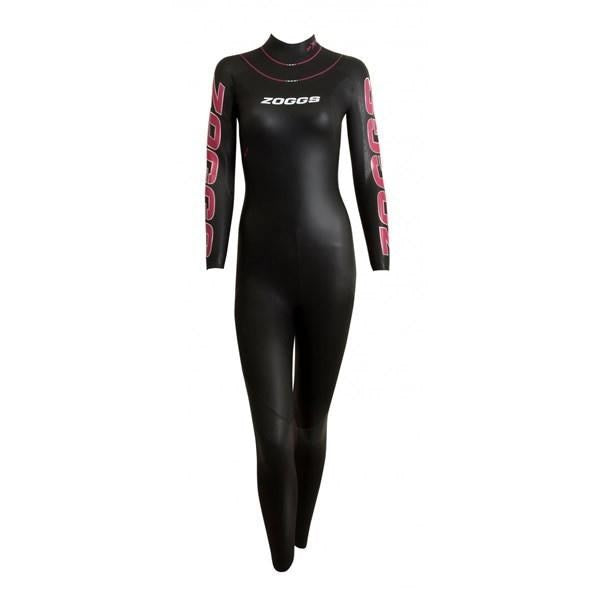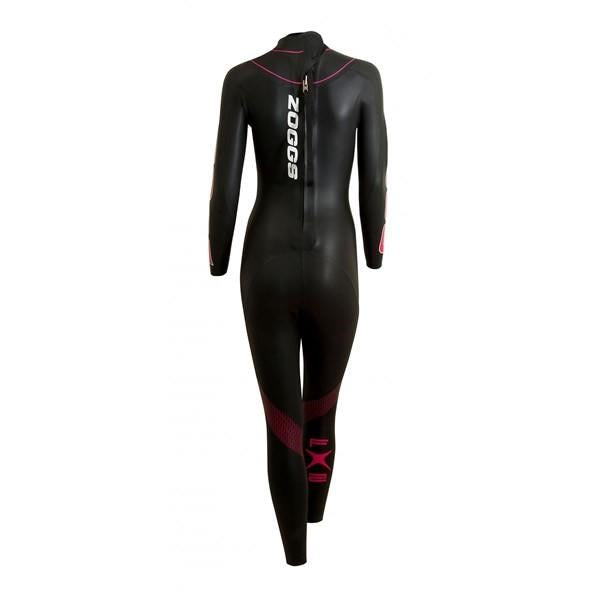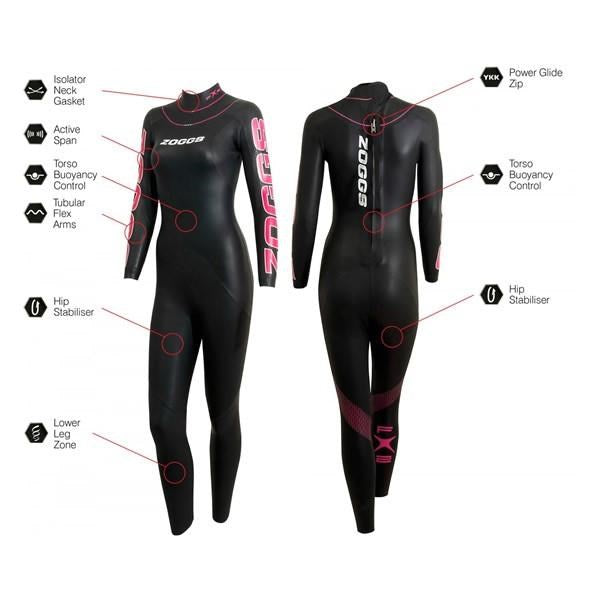 ZOGGS
WOMENS ZOGGS FX2 FULLSLEEVE WETSUIT
WOMENS ZOGGS FX2 FULLSLEEVE WETSUIT
Introducing our Zoggs FX2 Wetsuit, new for 2015! Our range of wetsuits include our unique flex technology concept giving unrivalled comfort and fit that we already provide in our unparalleled range of Predator Flex goggles. The FX2 has been developed for the intermediate swimmer who is looking for a great all round suit. The stand out feature is the Isolated Neck Gasket – a multi directional panel around the collar to aid flexibility and rotation in the shoulders and neck. The 1.5mm gasket panel also makes for speedy removal during T1.
The combination of extremely buoyant Yamamoto neoprene with both bio and super stretch lining gives total flexibility and comfort to reduce fatigue and improve performance. The incorporation of the 3mm Torso Buoyancy Control panel aids buoyancy in the heaviest region of the torso without compromising on stretch or comfort, giving that extra support that even intermediate open water swimmers need from time to time. 
The ergonomically tailored leg and hip panels also improve buoyancy, and combined with our hip stabiliser technology will avoid excess hip rotation; ensuring swimmers are automatically brought into a streamlined and stable form in the water. The FX2 offers great all round performance and style, with a fantastic price point to match!
Isolator Neck Gasket
– Multi directional front to rear stretch collar panel to aid flexibility and rotation
Active Span
– Increased underarm to chest profile for greater upper body extension
Torso Buoyancy Control
– Strategically placed 3mm panels designed to aid buoyancy in the heaviest region of the torso without compromising stretch, focused on the stomach and lower back area
Tubular Flex Arms
– Super flexible 1.5mm tubular one piece panels for maximum flexibility
Hip Stabiliser
– Avoids over rotation in the stroke with added buoyancy
Lower Leg Zone
– Super flexible 3mm tubular panel for maximum flexibility
Power Glide Zip
– YKK zip to allow for quick transitions and minimise water entry
Available in black/orange for men and black/berry for women
Available in sizes XS - XL
Neck – 3mm
Shoulders – 1.5mm
Inner Arms – 2mm
Outer Arms – 1.5mm
Underarms – 2mm
Chest – 3mm
Back – 3mm
Waist – 3mm
Hips – 4mm
Thighs/upper legs – 4mm
Lower legs – 3mm
Yamamoto #39 - Smoothskin Neoprene
Yamamoto #38 - Smoothskin Neoprene
Yamamoto #39 SCS (Super Composite Skin)
Yamamoto #38 SCS (Super Composite Skin)
Hook and Loop Fastener
BIO Stretch Lining
– Nylon 100% / Weight: 130gsm / 2 way stretch
SUPER Stretch lining
– Nylon 100% / Weight: 130gsm / 2 way stretch